Fresh snowy landscape with powder feeling.
We hike on our snowshoes through the mountain forest.. over hilly terrain past alpine huts, to the lookout point. where we enjoy the ingenious panorama of the mountains.
On the way back, the powder feeling comes into play. We return to the starting point over hills and alpine meadows.

group_add

Group size

1 to 5 Visitors

restore

Tour duration

4.5 hours

restore

Cancel

This tour can be cancelled free of charge up to 48 hours before the start.

wb_sunny

Nice weather

Sunnglases, Onion-peel dresses

check_box

Included

Snowshoes, poles, avalanche transceiver

check_box

Suitable for...

Childrens from 8 Jeahrs. Adults

flash_on

Bad weather

If the wether is very bad, the tour will be canceled the day before.

indeterminate_check_box

Exluded

Travel expences, catering

indeterminate_check_box

Not suitable for...

People with walking difficulties
accessibility
Für Wintertaugliche
check_circle
für Berggeissen
directions_run
Without queuing
cloud_circle
All-weather program
supervised_user_circle
For company teambuilding
camera_roll
Cool photo spots
favorite
Created with love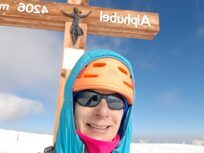 VisitLocals
German / English / French
Hobbies
Snowshoetours, Mountain hiking, High mountaineering tours, Klimbing, Endurance trainings
Motivation
I bring the visitors closer to the beauty of nature, without hally-gally away from the main stream of tourists. Experience and enjoy pure nature. Guests who wants to go on tours that are demanding and require a certain basic level of fitness. Overnight stays in huts, multiday tours, and outdoor events. Visitors who want a training programm for a 4000m ascent, guided trainings tours.