Via Ferrata Tour in central Switzerland
Enjoy an airy adventure!
Together we visit a via ferrata in central Switzerland and learn the necessary techniques to climb it safely. An adventure for young and old, under the supervision of an experienced mountain guide!

group_add

Group size

1 to 8 Visitors

restore

Tour duration

8 hours

restore

Cancel

This tour can be cancelled free of charge up to 72 hours before the start.

check_box

Included
Rental material
Snacks
Alpine Guide
check_box
Suitable for...
Children
Families
Friends groups
flash_on
Bad weather
Mutation in a similar activity or postponing the activity to a further date
indeterminate_check_box
Exluded
Private accident insurance
indeterminate_check_box
Not suitable for...
People with Vertigo
supervised_user_circle
For company teambuilding
camera_roll
Cool photo spots
favorite
Created with love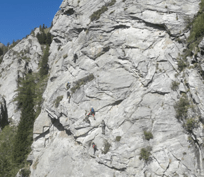 VisitLocals
German / English / Italian / Spanish
Hobbies
Mountain sports
Expedition trips
Unique adventures Switzerland-wide
Motivation
To convey mountain sports in all safety and with the maximum fun factor possible